(List) The Essential Fantasy Movies You Must See
|
<!– google_ad_section_start –>
"Once Upon a Time" Doesn't get Any Better Than These 13 Films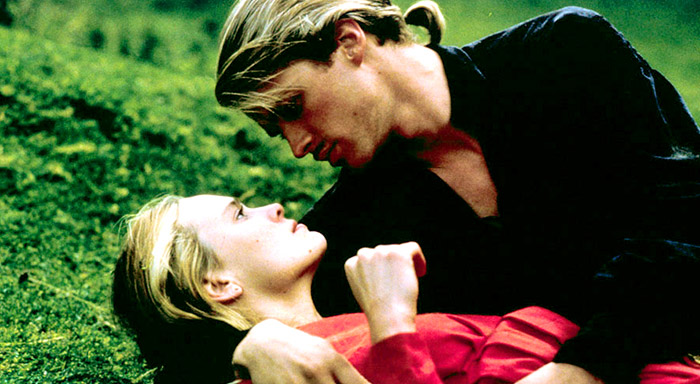 Magic, myth, wonder, escapism and the extraordinary—movies often draw inspiration from fairy tales. The movies below, all from 1001 Movies You Must See Before You Die, will enchant and delight you.
13. Pan's Labyrinth
Guillermo del Toro's look at war-time horror is set within an adult legend. Ofelia (Ivana Baquero), the stepdaughter of a Fascist army officer, escapes into an eerie but captivating world, where she discovers a garden labyrinth. She meets the tall goat-headed forest Faun, who tells her that she is actually Princess Moana of the Underworld. If she completes three daunting tasks at the full moon, she will be restored to her true father, the King. The third task became a self-sacrificial test of Ofelia's obedience and courage.
12. Spirited Away

In Japanese master Hayao Miyazaki's acclaimed animated fantasy, spoiled 10-year-old Chihiro enters a magical world in an abandoned amusement park. During her coming-of-age navigation of this dreamlike other-world, she was challenged to learn the strange illogical rules of existence, engage with many gods, creatures, natural spirits and monsters, and show bravery and loyalty before reuniting with her parents.
11. The Lord of the Rings Trilogy
Peter Jackson's epic is a dazzling synthesis of many fantastical elements from J.R.R. Tolkein's masterwork about Middle-Earth: an heroic quest, good vs. evil, war stories, sci-fi creatures and ancient wonders. Multiple story lines and epic battles are interwoven together in a story of friendship, loyalty, honor and courage. Innovative motion capture created the unforgettable, Ring-addicted creature of Gollum (Andy Serkis), who serves as the wretched guide to young hobbits Frodo (Elijah Wood) and friend Sam (Sean Astin) during their mission to return the Ring to Mordor and destroy it in Mount Doom's molten lava.
10. Babe

The Australian "sleeper" family movie was a critical and financial success, earning an amazing seven Oscar nominations, including a Best Picture nom. The movie is told in storybook fashion (with chapters introduced by a trio of singing mice), and follows the piglet Babe, who's raised by sheepdogs and dares to be different. Goodhearted farmer Arthur Hoggett (James Cromwell) had the best-known line of the movie: "That'll do, pig. That'll do," after Babe succeeded as a championship-winning "sheepdog."
9. Edward Scissorhands

Tim Burton's original modern-day fairy tale opens with an old lady telling a bedtime story to her granddaughter about where snow came from. Edward Scissorhands (Johnny Depp) was the unfinished creation of a mad inventor (Vincent Price), who's outfitted with razor sharp shears for hands. In this Beauty and the Beast allegory, his love for Kim (Winona Ryder) wasn't reciprocated until she realizes his unique beauty. And in the somber climax, she saves him from a mob, and he lives as an outcast in the mansion on the hill, where he creates the town's snow.
8. The Princess Bride

Rob Reiner's popular romantic comedy was framed as a classic fairy-tale bedtime story read to a sick little boy (Fred Savage) by his kind grandfather (Peter Falk). The romance-averse grandson doesn't believe in all of the fanciful characters—but is won over at the end. At the heart of the story set in the kingdom of Florin was the princess Buttercup (Robin Wright) and her true love, farm-boy turned pirate Westley (Cary Elwes). The movie keeps a brisk pace with swordplay, dueling scenes, a fire swamp with large rodents and, um, screaming eels. And last but not least, there are not-be-be-missed cameos by Billy Crystal and Carol Kane.
7. Brazil

Terry Gilliam's eccentric movie is a hybrid of science-fiction, comedy and fantasy. In a future dystopian world of Big Brother totalitarianism, computer expert Sam Lowry (Jonathan Pryce) is a civil servant in the Ministry of Information, who sees himself as a heroic knight combating the Machine Age. Fantasy ultimately saves him when he imagines himself escaping to an illusory idyllic paradise that was free of societal restrictions.
6. The Red Shoes 

The British movie's magical highlight is a 15-minute stylized Red Shoes ballet (based upon Hans Christian Andersen's tragic children's fairy tale) and Vicky Page's (Moira Shearer) performance as the lead dancer. Her desire to dance conflicted with her need for love—and ultimately led to her death. The titular controlling red shoes take her to a balcony overlook and forcefully pull her off into the path of an oncoming train on the tracks below.
5. La Belle et La Bete

Jean Cocteau's fanciful story, based on the classic 1757 fairy tale, asks the audience to adopt "childlike simplicity." The movie's message is to find beauty beneath outward appearances, but in the happily-ever-after conclusion, the Beast is now a Prince, and it's revealed that a fairy had cursed him because his parents didn't believe in fairies.
4. Fantasia

An innovative work consisting of eight animated sequences corresponding to classical musical selections, performed by the Philadelphia Orchestra conducted by Leopold Stokowski, and noted for the movie's pioneering Fantasound (the first commercial film with stereophonic sound). Add in a comeback role for Mickey Mouse as the wizard's disobedient assistant and the movie is a must-see.
3. Pinocchio

This dark tale was about a cricket named Jiminy who serves as the guiding conscience of a wooden marionette named Pinocchio who comes to life. Pinocchio has to prove himself to become a "real boy"—and is soon assailed by devious crooks (a fox and cat), a villain (puppet master Stromboli), the evil temptations of Pleasure Island and a monstrous whale.
2. The Wizard of Oz

The fantasy musical from MGM during its golden years has become an icon in and of itself. Say "I'm melting" and pretty much everyone knows what you're talking about. Hum a few bars of the "Somewhere Over the Rainbow" and you're stuck with that ear worm for the rest of the day. When Kansas farm-girl Dorothy (Judy Garland) dreams of a better place and runs away, she's transported "beyond the rainbow" to the magical world of Oz. A place none of us would mind visiting, but, of, course, "There's no place like home."
1. Snow White and the Seven Dwarfs

The storybook fairy tale was first made famous by the Brothers Grimm in 1821, but Disney broke new ground with the classic story when it made it the subject of the first full-length animated feature in history. Snow White, the object of the evil stepmother Queen's jealousy, is banished to be murdered, adopted by woodland creatures and finds refuge in a cottage with seven dwarfs. After biting into the Witch's poisoned apple, comatose Snow White only needed Prince Charming's kiss to bring about the inevitable happy ending.
courtesy of SundanceTV
<!– google_ad_section_end –>